Courtney Q. Jones – 
of Chicago Homes Realty Group in Chicago, 2017-2018 president of Dearborn REALTIST® Board – 
PHOTO BY StoryTeller Studios
Despite fair housing initiatives, African American homeownership still lags behind other groups and that is something the National Association of Real Estate Brokers (REALTIST®) and the Chicago Dearborn REALTIST®, wants to see change.
The Dearborn REALTIST® Board was founded in March 1941 and chartered in October 1941 by twelve African American real estate brokers to be the "conscience" to combat oppressive and repressive conditions existing for African Americans in the real estate industry.  The Dearborn REALTIST® Board's mission was to bring professionalism, access to training and economic power to its members. African American brokers were unfairly confined by restrictive covenants to a narrowly defined south side area.
At the time, African Americans were even restricted in which parts of Chicago they were allowed to live, said Courtney Q. Jones, a broker with Chicago Homes Realty Group and the 2018 president of the Dearborn REALTIST® Board.
Today, the African American homeownership rate is 39 percent compared to 72 percent of the Caucasian population.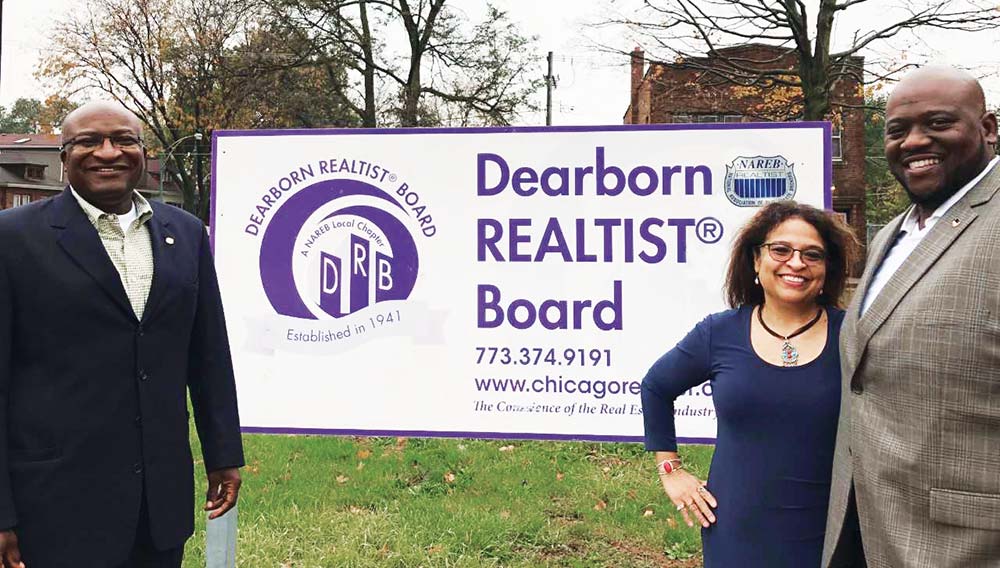 The Dearborn REALTIST® Board (DRB) headquarters stands at 8454 S. Stony Island Avenue in Chicago. (L-R) Ronald Branch – NAREB/DRB Past President, Millie Reyes-Williams – DRB Board of Director and Courtney Q. Jones – DRB President. – PHOTO BY ANN LONDRIGAN
The group's primary initiative is to get 2 million African American homeowners into homes in the next five years, Jones said.
But there are still hurdles to overcome, many of which have been issues for years. Even today, African Americans face more roadblocks on the road to homeownership.
It is not uncommon for an African American family to put in a competitive offer on a home only to lose out and find out later that the buyer who did get the home, actually had a lower offer, Jones said.
"It begins to be glaring that this is more than just a financial decision," he said.
In other circumstances, an African American family might pay higher basis points on the same size loan of a white family.
"It's important that we educate the people that we represent…what's appropriate, what's illegal, what's discrimination," he said.
"When I start thinking about fair housing champions and how we can individually be that champion, it's picking up the issues that we know are wrong and dirty and trying to get them clean."
To commemorate the 50th anniversary of the Fair Housing Act, Illinois REALTORS® worked with The Storytellers Studios to produce a video telling the story of REALTOR® involvement, past and present, in the fair housing movement. In the video, Illinois REALTOR® members share their personal experiences in the fight for equal opportunity in housing and reflect on what more needs to be done.
In 1968, President Lyndon B. Johnson signed the Fair Housing Act into law. Fifty years later, Illinois REALTORS® commemorates the progress that has been made to provide equal housing opportunity for all and looks at the challenges that remain.