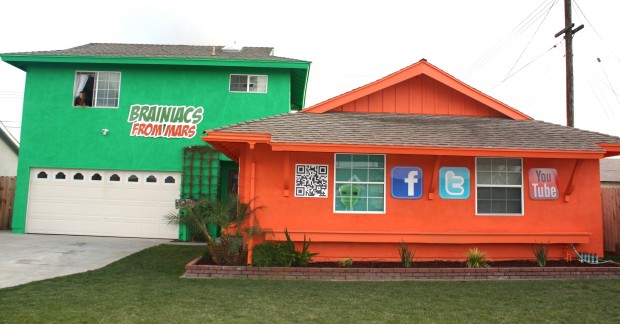 Are you willing to let your home be used as a commercial billboard in exchange for help on your mortgage payments? How about letting a company temporarily paint your home an eye-popping green and orange to promote their business like this example from the marketing company Brainiacs From Mars?
Some homeowners around the country have said yes to letting their homes become temporary advertisements, and Pantagraph columnist Bill Flick writes in his column, "Your house – advertising's next frontier? In B-N even?" that there's even been interest in the Bloomington-Normal market.
In other news:
Next stop, foreclosures — A realty company in West Dundee, Ill. is operating foreclosure bus tours in its market. Potential buyers recently boarded a bus and toured nine foreclosed homes in East Dundee, Elgin, Lake in the Hills, Sleepy Hollow and West Dundee. The tours provide interested buyers a chance to see multiple foreclosed homes in one day and learn about the buying process, the Chicago Tribune reports.
"Buying one of these homes is very different than a conventional home purchase, so a big part of our job is education," said real estate agent Doug Kowalewski, with Tanis Group Realty in West Dundee.